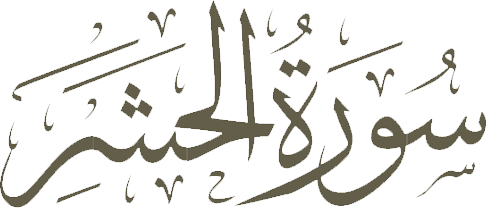 Surah Al-Hashr Translated in Dutch

سَبَّحَ لِلَّهِ مَا فِي السَّمَاوَاتِ وَمَا فِي الْأَرْضِ ۖ وَهُوَ الْعَزِيزُ الْحَكِيمُ

Alles wat in den hemel of op aarde is, verkondigt den lof van God, en hij is de Machtige, de Wijze.
هُوَ الَّذِي أَخْرَجَ الَّذِينَ كَفَرُوا مِنْ أَهْلِ الْكِتَابِ مِنْ دِيَارِهِمْ لِأَوَّلِ الْحَشْرِ ۚ مَا ظَنَنْتُمْ أَنْ يَخْرُجُوا ۖ وَظَنُّوا أَنَّهُمْ مَانِعَتُهُمْ حُصُونُهُمْ مِنَ اللَّهِ فَأَتَاهُمُ اللَّهُ مِنْ حَيْثُ لَمْ يَحْتَسِبُوا ۖ وَقَذَفَ فِي قُلُوبِهِمُ الرُّعْبَ ۚ يُخْرِبُونَ بُيُوتَهُمْ بِأَيْدِيهِمْ وَأَيْدِي الْمُؤْمِنِينَ فَاعْتَبِرُوا يَا أُولِي الْأَبْصَارِ

Hij was het, die degenen van het volk dat de schrift ontving welke niet geloofden, bij de eerste landverhuizing uit hunne woningen deed vertrekken. Gij dacht niet, dat zij van daar zouden gaan, en zij dachten, dat hunne sterkte hen tegen God zoude bijstaan. Maar Gods kastijding kwam over hen, van waar zij die niet verwacht hadden, en hij wierp schrik in hunne harten. Zij verwoestten hunne huizing met eigen handen en met de handen der ware geloovigen. Neemt dus een voorbeeld aan hen, o gij die oogen hebt!
وَلَوْلَا أَنْ كَتَبَ اللَّهُ عَلَيْهِمُ الْجَلَاءَ لَعَذَّبَهُمْ فِي الدُّنْيَا ۖ وَلَهُمْ فِي الْآخِرَةِ عَذَابُ النَّارِ

En indien God hen niet tot verbanning had gedoemd, zou hij hen zeker hebben uitgeroeid; en in de volgende wereld zullen zij de marteling van het hellevuur ondergaan.
ذَٰلِكَ بِأَنَّهُمْ شَاقُّوا اللَّهَ وَرَسُولَهُ ۖ وَمَنْ يُشَاقِّ اللَّهَ فَإِنَّ اللَّهَ شَدِيدُ الْعِقَابِ

Dit geschiedt, omdat zij God en zijn gezant wederstand hebben geboden; en wie God we
مَا قَطَعْتُمْ مِنْ لِينَةٍ أَوْ تَرَكْتُمُوهَا قَائِمَةً عَلَىٰ أُصُولِهَا فَبِإِذْنِ اللَّهِ وَلِيُخْزِيَ الْفَاسِقِينَ

De palmboomen welke gij nederhouwt, of die gij met hunne wortelen laat staan, werden nedergehouwen of bleven staan door den wil van God om de zondaren gerust te stellen.
وَمَا أَفَاءَ اللَّهُ عَلَىٰ رَسُولِهِ مِنْهُمْ فَمَا أَوْجَفْتُمْ عَلَيْهِ مِنْ خَيْلٍ وَلَا رِكَابٍ وَلَٰكِنَّ اللَّهَ يُسَلِّطُ رُسُلَهُ عَلَىٰ مَنْ يَشَاءُ ۚ وَاللَّهُ عَلَىٰ كُلِّ شَيْءٍ قَدِيرٌ

En wat den buit betreft van het volk, dat God geheel aan zijn gezant heeft geschonken, gij hebt daartegen noch paarden, noch kameelen aangevoerd; maar God geeft de heerschappij aan zijne gezanten over wien hij wil; want God is almachtig.
مَا أَفَاءَ اللَّهُ عَلَىٰ رَسُولِهِ مِنْ أَهْلِ الْقُرَىٰ فَلِلَّهِ وَلِلرَّسُولِ وَلِذِي الْقُرْبَىٰ وَالْيَتَامَىٰ وَالْمَسَاكِينِ وَابْنِ السَّبِيلِ كَيْ لَا يَكُونَ دُولَةً بَيْنَ الْأَغْنِيَاءِ مِنْكُمْ ۚ وَمَا آتَاكُمُ الرَّسُولُ فَخُذُوهُ وَمَا نَهَاكُمْ عَنْهُ فَانْتَهُوا ۚ وَاتَّقُوا اللَّهَ ۖ إِنَّ اللَّهَ شَدِيدُ الْعِقَابِ

De buit der bewoners van de steden die God aan zijn gezant heeft geschonken is aan God en zijn gezant verschuldigd, en aan hem, die tot de nabestaanden van den gezant behoort, en aan de weezen en aan den arme en aan den reiziger, opdat die niet immer in een kring zoude verdeeld worden, van diegenen uwer, welke rijk zijn. Neemt aan wat de profeet u zal geven, en onthoudt u van hetgeen hij u verbiedt, en vreest God; want God is gestreng in het kastijden.
لِلْفُقَرَاءِ الْمُهَاجِرِينَ الَّذِينَ أُخْرِجُوا مِنْ دِيَارِهِمْ وَأَمْوَالِهِمْ يَبْتَغُونَ فَضْلًا مِنَ اللَّهِ وَرِضْوَانًا وَيَنْصُرُونَ اللَّهَ وَرَسُولَهُ ۚ أُولَٰئِكَ هُمُ الصَّادِقُونَ

Ook behoort een deel aan de arme Mohajerin die van hunne huizen en hunne bezittingen werden beroofd, terwijl zij naar Gods gunst en naar zijn welgevallen streefden en God en zijn gezant bijstonden. Dit zijn de lieden der waarachtigheid.
وَالَّذِينَ تَبَوَّءُوا الدَّارَ وَالْإِيمَانَ مِنْ قَبْلِهِمْ يُحِبُّونَ مَنْ هَاجَرَ إِلَيْهِمْ وَلَا يَجِدُونَ فِي صُدُورِهِمْ حَاجَةً مِمَّا أُوتُوا وَيُؤْثِرُونَ عَلَىٰ أَنْفُسِهِمْ وَلَوْ كَانَ بِهِمْ خَصَاصَةٌ ۚ وَمَنْ يُوقَ شُحَّ نَفْسِهِ فَأُولَٰئِكَ هُمُ الْمُفْلِحُونَ

En zij die, v
وَالَّذِينَ جَاءُوا مِنْ بَعْدِهِمْ يَقُولُونَ رَبَّنَا اغْفِرْ لَنَا وَلِإِخْوَانِنَا الَّذِينَ سَبَقُونَا بِالْإِيمَانِ وَلَا تَجْعَلْ فِي قُلُوبِنَا غِلًّا لِلَّذِينَ آمَنُوا رَبَّنَا إِنَّكَ رَءُوفٌ رَحِيمٌ

En zij die na hen zijn gekomen zeggen: O Heer! vergeef ons en onze broederen, die ons in het geloof zijn voorgegaan, en werp geen kwaden wil in onze harten, omtrent hen, die geloofd hebben: O Heer! Waarlijk, gij zijt medelijdend en genadig.
Load More