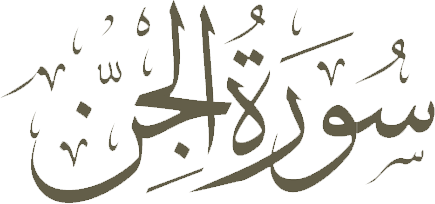 Surah Al-Jinn Translated in Dutch

قُلْ أُوحِيَ إِلَيَّ أَنَّهُ اسْتَمَعَ نَفَرٌ مِنَ الْجِنِّ فَقَالُوا إِنَّا سَمِعْنَا قُرْآنًا عَجَبًا

Zeg: Het is mij geopenbaard, dat een aantal geniussen mijne lezing van den Koran aandachtig hebben aangehoord, en zeiden: Waarlijk, wij hebben een bewonderenswaardig gesprek gehoord.
يَهْدِي إِلَى الرُّشْدِ فَآمَنَّا بِهِ ۖ وَلَنْ نُشْرِكَ بِرَبِّنَا أَحَدًا

Dat op den rechten weg leidt; daarom gelooven wij er in, en wij willen volstrekt geen ander met onzen Heer vereenigen.
وَأَنَّهُ تَعَالَىٰ جَدُّ رَبِّنَا مَا اتَّخَذَ صَاحِبَةً وَلَا وَلَدًا

Hij (dat zijne majesteit verheven zij!) heeft geene vrouw genomen, en heeft evenmin kinderen gebaard
وَأَنَّهُ كَانَ يَقُولُ سَفِيهُنَا عَلَى اللَّهِ شَطَطًا

Een dwaze van ons heeft iets van God gezegd, wat geheel valsch is.
وَأَنَّا ظَنَنَّا أَنْ لَنْ تَقُولَ الْإِنْسُ وَالْجِنُّ عَلَى اللَّهِ كَذِبًا

Maar wij dachten waarlijk, dat noch mensch, noch genius op eenigerlei wijze eene leugen tegen God zou hebben uitgedacht.
وَأَنَّهُ كَانَ رِجَالٌ مِنَ الْإِنْسِ يَعُوذُونَ بِرِجَالٍ مِنَ الْجِنِّ فَزَادُوهُمْ رَهَقًا

En er zijn zekere menschen, die, als toevlucht, tot sommigen der geniussen vloden.
وَأَنَّهُمْ ظَنُّوا كَمَا ظَنَنْتُمْ أَنْ لَنْ يَبْعَثَ اللَّهُ أَحَدًا

Maar zij vermeerderden hunne dwaasheid en hunne zonden. Zij dachten, zooals gij denkt, dat God niemand tot het leven zal doen verrijzen.
وَأَنَّا لَمَسْنَا السَّمَاءَ فَوَجَدْنَاهَا مُلِئَتْ حَرَسًا شَدِيدًا وَشُهُبًا

En wij trachtten vroeger te bespieden, wat er in den hemel voortging; maar wij bevonden, dat die met eene sterke wacht van engelen en vlammende flitsen opgevuld was.
وَأَنَّا كُنَّا نَقْعُدُ مِنْهَا مَقَاعِدَ لِلسَّمْعِ ۖ فَمَنْ يَسْتَمِعِ الْآنَ يَجِدْ لَهُ شِهَابًا رَصَدًا

En wij plaatsten ons op sommige der zetels om de gesprekken zijner bewoners te hooren; maar wie thans zou luisteren, zou den vlammenden schicht vinden, die in hinderlaag gelegd is, om de grenzen van den hemel te beschermen (hem te treffen).
وَأَنَّا لَا نَدْرِي أَشَرٌّ أُرِيدَ بِمَنْ فِي الْأَرْضِ أَمْ أَرَادَ بِهِمْ رَبُّهُمْ رَشَدًا

Wij weten niet, of daardoor eene ramp voor hen wordt bedoeld, die op de aarde wonen, dan wel of hun Heer voornemens is, hen op den rechten weg te leiden.
Load More