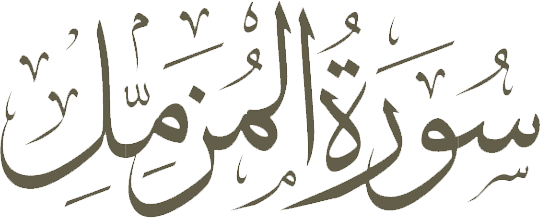 Surah Al-Muzzammil Translated in Dutch

يَا أَيُّهَا الْمُزَّمِّلُ

O gij omwikkelde profeet!
قُمِ اللَّيْلَ إِلَّا قَلِيلًا

Sta op om te bidden, en ga daarmede voort gedurende den nacht, behalve een klein gedeelte:
نِصْفَهُ أَوِ انْقُصْ مِنْهُ قَلِيلًا

Dat is te zeggen, gedurende de helft daarvan, of verkort dit een weinig.
أَوْ زِدْ عَلَيْهِ وَرَتِّلِ الْقُرْآنَ تَرْتِيلًا

Of voeg er iets bij, en herhaal den Koran met eene duidelijke en welluidende stem.
إِنَّا سَنُلْقِي عَلَيْكَ قَوْلًا ثَقِيلًا

Want wij zullen u een zeer gewichtig woord openbaren.
إِنَّ نَاشِئَةَ اللَّيْلِ هِيَ أَشَدُّ وَطْئًا وَأَقْوَمُ قِيلًا

Waarlijk, het begin des nachts heeft meer kracht voor het standvastige gebed en geeft meer gemak om ons uit te drukken;
إِنَّ لَكَ فِي النَّهَارِ سَبْحًا طَوِيلًا

Want des daags hebt gij vele bezigheden.
وَاذْكُرِ اسْمَ رَبِّكَ وَتَبَتَّلْ إِلَيْهِ تَبْتِيلًا

En herdenk den naam van uwen Heer en geef u geheel aan hem over, terwijl gij van de wereldsche ijdelheden afstand doet.
رَبُّ الْمَشْرِقِ وَالْمَغْرِبِ لَا إِلَٰهَ إِلَّا هُوَ فَاتَّخِذْهُ وَكِيلًا

Hij is de Heer van het Oosten en het Westen. Er is geen god buiten hem. Neem hem dus tot uwen beschermer.
وَاصْبِرْ عَلَىٰ مَا يَقُولُونَ وَاهْجُرْهُمْ هَجْرًا جَمِيلًا

Draag den schimp geduldig, dien de ongeloovigen u toevoegen, en vertrek van hen op een voegzame wijze.
Load More