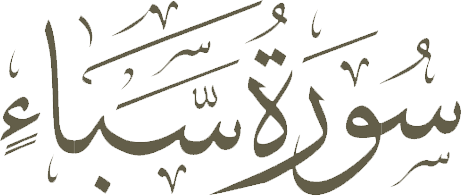 Surah Saba Translated in Dutch

الْحَمْدُ لِلَّهِ الَّذِي لَهُ مَا فِي السَّمَاوَاتِ وَمَا فِي الْأَرْضِ وَلَهُ الْحَمْدُ فِي الْآخِرَةِ ۚ وَهُوَ الْحَكِيمُ الْخَبِيرُ

Geloofd zij God, aan wien alles behoort, wat in de hemelen en op aarde is, en geloofd zij hij in de volgende wereld; want hij is wijs en alwetend.
يَعْلَمُ مَا يَلِجُ فِي الْأَرْضِ وَمَا يَخْرُجُ مِنْهَا وَمَا يَنْزِلُ مِنَ السَّمَاءِ وَمَا يَعْرُجُ فِيهَا ۚ وَهُوَ الرَّحِيمُ الْغَفُورُ

Hij kent alles wat de aarde binnentreedt, en alles wat daaruit komt, en alles wat van den hemel nederdaalt , en alles wat daarheen opstijgt. Hij is barmhartig en vergevensgezind.
وَقَالَ الَّذِينَ كَفَرُوا لَا تَأْتِينَا السَّاعَةُ ۖ قُلْ بَلَىٰ وَرَبِّي لَتَأْتِيَنَّكُمْ عَالِمِ الْغَيْبِ ۖ لَا يَعْزُبُ عَنْهُ مِثْقَالُ ذَرَّةٍ فِي السَّمَاوَاتِ وَلَا فِي الْأَرْضِ وَلَا أَصْغَرُ مِنْ ذَٰلِكَ وَلَا أَكْبَرُ إِلَّا فِي كِتَابٍ مُبِينٍ

De ongeloovigen zeggen: Het uur des oordeels zal tot ons niet komen. Antwoord: Ja! bij mijn Heer, het zal zekerlijk tot u komen: hij is het die de verborgen geheimen kent, zelfs tot het gewicht van een atoom, hetzij zich dit in den hemel of op aarde bevindt; ieder ding hetzij het kleiner of grooter dan dit mocht zijn, is hem bekend, en het is opgeschreven in het duidelijke boek zijner besluiten.
لِيَجْزِيَ الَّذِينَ آمَنُوا وَعَمِلُوا الصَّالِحَاتِ ۚ أُولَٰئِكَ لَهُمْ مَغْفِرَةٌ وَرِزْقٌ كَرِيمٌ

Opdat hij hen moge beloonen, die geloofd en rechtvaardigheid uitgeoefend hebben; zij zullen vergiffenis en eene eervolle belooning ontvangen.
وَالَّذِينَ سَعَوْا فِي آيَاتِنَا مُعَاجِزِينَ أُولَٰئِكَ لَهُمْ عَذَابٌ مِنْ رِجْزٍ أَلِيمٌ

Maar zij, die trachten onze teekenen krachteloos te doen zijn, zullen de straf eener pijnlijke marteling ontvangen.
وَيَرَى الَّذِينَ أُوتُوا الْعِلْمَ الَّذِي أُنْزِلَ إِلَيْكَ مِنْ رَبِّكَ هُوَ الْحَقَّ وَيَهْدِي إِلَىٰ صِرَاطِ الْعَزِيزِ الْحَمِيدِ

Zij, aan wie de kennis is gegeven, zien dat het boek, hetwelk u van uwen Heer werd geopenbaard, de waarheid is en op den glorierijken en loffelijken weg leidt.
وَقَالَ الَّذِينَ كَفَرُوا هَلْ نَدُلُّكُمْ عَلَىٰ رَجُلٍ يُنَبِّئُكُمْ إِذَا مُزِّقْتُمْ كُلَّ مُمَزَّقٍ إِنَّكُمْ لَفِي خَلْقٍ جَدِيدٍ

De ongeloovigen zeggen tot elkander: Zullen wij u een man toonen, die u zal profeteeren, dat als gij door een volkomen bederf zult zijn uiteengerukt, gij als een nieuw schepsel zult opstaan?
أَفْتَرَىٰ عَلَى اللَّهِ كَذِبًا أَمْ بِهِ جِنَّةٌ ۗ بَلِ الَّذِينَ لَا يُؤْمِنُونَ بِالْآخِرَةِ فِي الْعَذَابِ وَالضَّلَالِ الْبَعِيدِ

Hij heeft eene leugen nopens Gods uitgedacht, of liever hij is bezeten. Zeg: Zij, die niet in het volgende leven gelooven, zullen in straf en eene eindelooze dwaling vervallen.
أَفَلَمْ يَرَوْا إِلَىٰ مَا بَيْنَ أَيْدِيهِمْ وَمَا خَلْفَهُمْ مِنَ السَّمَاءِ وَالْأَرْضِ ۚ إِنْ نَشَأْ نَخْسِفْ بِهِمُ الْأَرْضَ أَوْ نُسْقِطْ عَلَيْهِمْ كِسَفًا مِنَ السَّمَاءِ ۚ إِنَّ فِي ذَٰلِكَ لَآيَةً لِكُلِّ عَبْدٍ مُنِيبٍ

Hebben zij dus niet overwogen, wat voor hen is en wat achter hen is, van den hemel en de aarde? Indien het ons behaagt, zullen wij de aarde zich doen openen en hen verzwelgen, en zullen wij een deel des hemels op hen doen nedervallen; waarlijk hierin is een teeken voor iederen dienaar, die zich tot God keert.
وَلَقَدْ آتَيْنَا دَاوُودَ مِنَّا فَضْلًا ۖ يَا جِبَالُ أَوِّبِي مَعَهُ وَالطَّيْرَ ۖ وَأَلَنَّا لَهُ الْحَدِيدَ

Wij schonken vroeger aan David van onze uitnemende gaven en zeiden: O bergen! zingt beurtelings lofliederen met hem; en wij dwongen ook de vogels zich daarbij te voegen. En wij maakten het ijzer zacht voor hem
Load More